Plus size pregnant women were the topic of multiple news articles last week. Including OB-GYNs in Florida refusing to work with larger women, and plus size women having more "necessary" interventions during birth.
Up until this post, my blog has consisted of me sharing my story in hopes of inspiring other plus size women to have healthy and empowered pregnancies.
Today, however, I shall climb upon my soapbox. I'm standing strong for plus size women's bodies and our ability to birth healthy babies vaginally!
Today I'm speaking out about the plus size stigma within the medical community.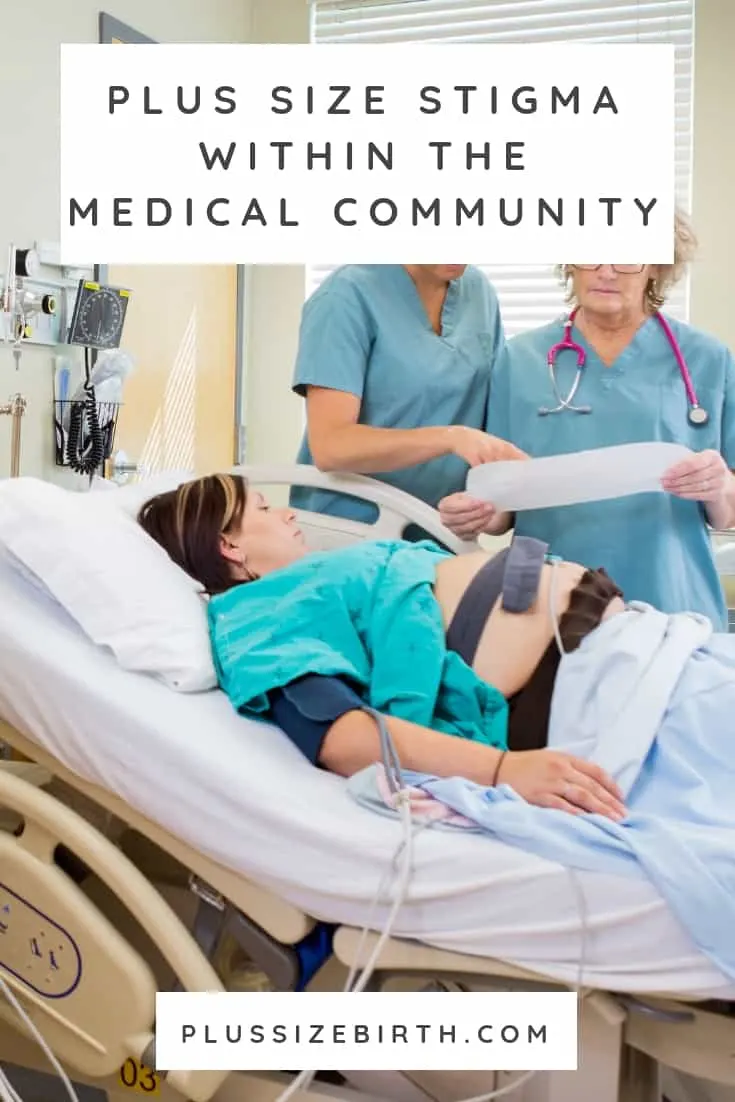 Plus Size Stigma
There is a stigma associated with being plus size, and frankly, a lot of individuals who just don't want to be associated with larger people. Unfortunately, this is also true within the medical community where there is a clear plus size stigma.
I believe women should not be automatically classified as "high risk" due to their weight. Not all OB-GYN's agree and this was evident in Sun Sentinel's article about OB-GYNs in South Florida turning away overweight women.
"Solomon and Otero don't want to begin seeing heavy women and then have to send them to specialists if they later develop problems, said their office manager, who asked not to be named." This woman went on to say, "This is not a high-risk practice" and "They are not experts in obesity."
Plus size women are going to get pregnant no matter how many narrow-minded OB-GYNs close their doors to them. Women of all sizes need to find supportive medical providers who will honor their wishes.
There was another article last week from the Montreal Gazette about the propensity for plus size moms to birth via c-sections.
Overall this article frustrated me but there was a voice of reason: "Abenhaim and his co-author, Dr. Alice Benjamin of the Royal Victoria Hospital, are challenging doctors to change the way they manage labor in obese women 'to allow equal opportunity for a vaginal birth for all.'" Rather than degrading women by refusing to provide medical care, let's empower them to have healthy pregnancies!
Medical providers should talk with a plus size woman about her ability to give birth vaginally without pushing interventions upon her. In turn, I'd like to think women will embrace their bodies and continue to lead healthier lifestyles after giving birth.
My midwife sure empowered me!
Other than my weight I've always been a healthy woman. When I became pregnant I knew it wasn't ideal because of my size and I became aware of risks to my baby and me. I immediately made a commitment to do anything possible to remain healthy and active.
According to my BMI, I was categorized as "morbidly obese" but according to my midwife I wasn't "high risk." At the beginning of my pregnancy, I was working with an OB-GYN and was given the standard "don't gain more than 15-20 pounds" speech. I didn't find this very helpful. When I started working within the midwifery model of care I felt fully supported.
My midwife and I had long talks about the healthy choices I was making and that I had the ability to birth a large baby. She never once made me feel like I was going to have a c-section.
I realize there are compassionate OB-GYNs who provide this level of care and not all midwives are as wonderful as mine. That is why it's critical to ask a lot of questions when selecting a medical provider.
As a plus size woman, I knew without a doubt that I would have a difficult recovery and higher odds for infections if I birthed via c-section.
The Montreal Gazette's article stated, "A study of nearly 12,000 women who delivered over a 10-year-period at Montreal's Royal Victoria Hospital found that doctors are far quicker to call for a C-section on women with higher body mass index, or BMI."
I want to make it clear I believe c-sections and other medical interventions are at times very necessary and save lives. With that said, I've spoken to plus size women who feel robbed of their birth experience by being made to feel like interventions were their only choice.
Along with the comments about c-sections, I was discouraged by this quote: "They're (OBG-GYNs) also more hesitant to use forceps on an obese mother to pull the baby out."
What about not forcing a woman to deliver on her back to accommodate the OB-GYN? How about moving her onto her knees, allowing gravity to help the baby move down? I don't say this as someone with a medical background. I say this as a "morbidly obese" woman who pushed for only thirty minutes and delivered my son on my knees!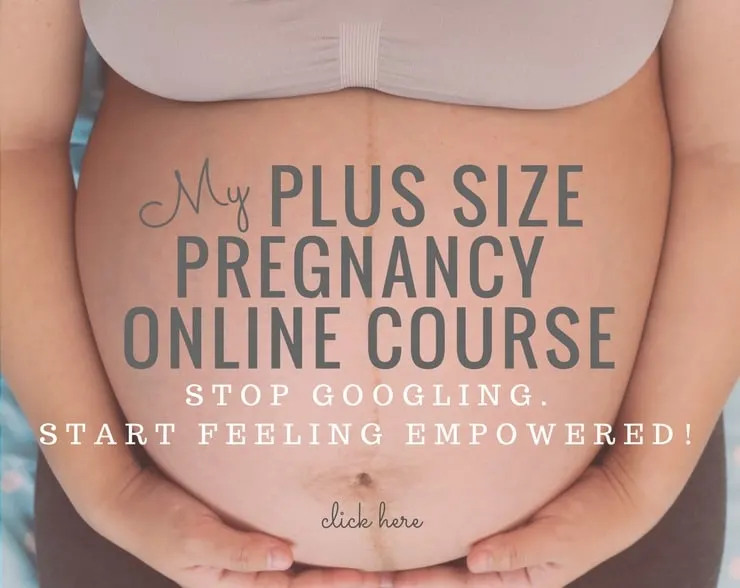 What can plus size women do to reverse this rise in interventions, c-sections, and doctors refusing to work with larger women? What can we do to reduce this plus size stigma?
Work with a supportive healthcare provider!
If an OB-GYN isn't "size friendly" then a plus size woman probably won't have a dignified birthing experience. By being empowered with a supportive healthcare provider, women will receive more guidance around eating healthy and being active throughout their pregnancy. It's important to know firing a current provider is an option if they aren't meeting the needs of the woman or pushing an induction or c-section.
Hire a doula!
I really encourage all pregnant women, especially women who are planning a hospital birth, to hire a doula.
Doulas decrease the odds of medical interventions and working with a doula has been proven to shorten the length of labor. As a plus size woman, I had some anxiety around inviting strangers into my birth circle. I'm so glad I overcame my fears and worked with an incredible doula who advocated for me throughout my natural hospital birth.
Write a birth plan!
Make sure wishes are clearly stated by writing a birth plan and reviewing it with the chosen medical provider. Of course, a lot can happen during birth that cannot be controlled or planned for in advance, which is why my birth plan began with this simple statement: "We are completely aware that everything may not go according to our plan but hope you'll support our desire to have as close to a natural birth as possible."
I also wrote a birth plan for a c-section. I firmly believe medical providers who aren't amenable to birth plans won't be as likely to respect a woman's desires during birth.
Speak up!
When articles are written with such negativity around plus size bodies, write a letter to the editor. I wrote one responding to OB-GYNs turning women away and it took me fifteen minutes. Advocate for plus size pregnant women by sharing positive articles and informative websites. Women's voices are valuable and should be heard.
I can't change the way people view plus size pregnant women or rework the BMI chart to be more realistic. What I can do is use my voice and help others to find theirs!
Plus size women have normal healthy pregnancies and natural deliveries all the time. I should know because I'm one of them!
Below is a poll from Plus Mommy Facebook page showing the majority of the 242 women surveyed had vaginal deliveries.
Stepping off my soapbox now…
[/et_pb_text][/et_pb_column][/et_pb_row][/et_pb_section]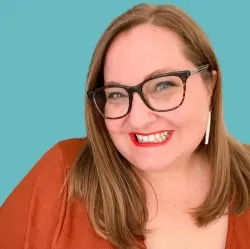 Latest posts by Jen McLellan, CBE
(see all)