For far too long, plus size pregnancy has been stigmatized. People feel as if they can't have a healthy outcome while pregnant. News about plus size bodies having babies remains hidden from public view. Or worse, it's all bad news when addressing pregnancy for every body.
I'm honored to say times are changing!
From the use of the #plussizepregnancy hashtag nearly 50,000 times on Instagram to plus size model Ashley Graham gracing the cover of Vogue magazine. Visibly pregnant people are coming forward to say our plus size bodies are deserving of recognition and respect during pregnancy.
Thankfully, major maternal health organizations are taking note, as evident by the recent launch of Pregnancy for Every Body!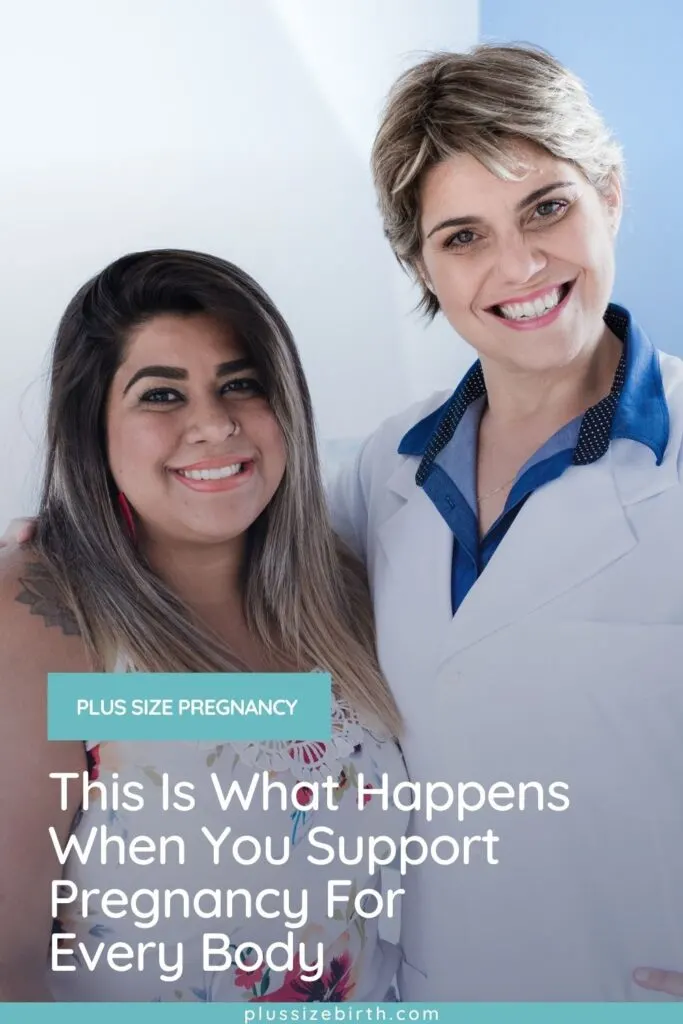 Support Pregnancy For Every Body
Pregnancy for Every Body is a new initiative from The National Institute of Child Health and Human Development's National Child & Maternal Health Education Program (NCMHEP).
This is a program that brings together leaders in maternal healthcare throughout the United States!
When you visit the Pregnancy for Every Body's website you'll see the following, "Plus-size pregnant women and healthcare providers share common goals: a healthy pregnancy, a safe delivery, and a healthy baby. Learn how to work together to reach them."
This positive messaging is a drastic shift from most healthcare website's pages on obesity in pregnancy.
For example, the Mayo Clinic's first sentence on their resource is the following, "Being obese during pregnancy can have a major impact on your health and your baby's health."
The language we use when we talk to people about their bodies matters.
By empowering plus size people to have a collaborative relationship with their care provider and to be proactive with their health throughout pregnancy, we create change!
Pregnancy for Every Body addresses the increased risks people of size face during pregnancy. It also clearly states (in bold), "most plus-size pregnant women have healthy pregnancies."
There's a focus on BMI, as you'll see on any healthcare site. Yet there's also clear messaging stating the following, "BMI is one factor in your healthy pregnancy plan, but it is not the only factor and not even the main factor." It's about time!
The Pregnancy for Every Body initiative provides downloadable PDFs. People can bring these handouts with them to their prenatal visits. This will encourage an open and honest dialogue with their care provider. Or better yet, their care provider can already have printed copies ready to share!
There's also a checklist for care providers that talks about appropriate, respectful language to use when supporting plus size patients, as well as other helpful information.
When you explore the resources provided, you'll see a familiar organization represented – Plus Size Birth!
In January of 2017, I received an e-mail regarding a possible speaking opportunity at the National Institutes of Health (NIH) in Bethesda, Maryland.
NCMHEP was in the conceptual stages of creating a maternal obesity initiative, and they wanted to hear the consumer perspective.
During our first conference call, I cried while thanking the program for wanting to hear the stories and concerns of plus size people.
I spoke not only as an advocate for people of size during pregnancy, and a certified childbirth educator but as a plus size woman who has been mistreated by professionals in the medical community.
On April 14th, 2017, I stood in a large conference room on the NIH campus. And I asked for a wireless mic while presenting. I wasn't about to stand behind a podium while providing this valuable information to medical professionals.
I wanted people to see my plus size body and hear my passion.
View this post on Instagram
This was the moment I had worked so hard to reach for six years. An opportunity to speak in front of leaders who could help to change how plus size people are treated throughout maternity care.
At one point during my presentation, I even pulled a chair out. I sat in it and showed the audience why we need to be aware of even the small details like chairs without arms.
I spoke about how language matters. And I explained that "obese" isn't a word care providers should be using when talking to patients.
While providing evidence to show care provider bias against people of size is harmful, I addressed why we need to help people connect with size-friendly care providers.
Following my presentation, I was held for questions and answers.
Each question asked confirmed in my mind that they had not only heard my presentation but were truly interested in what I had to share.
It was an incredible experience!
Over the next two-plus years, NCMHEP stayed in touch with me as the initiative came to fruition. I provided feedback on handouts and key messaging points.
From focus groups to committee reviews, so much care and thought was put into the Pregnancy for Every Body initiative. And that's what plus size people should expect when information is developed. It should support us throughout an extremely vulnerable and yet momentous moment in our lives.
We should hold organizations to this standard of not just disseminating information about increased risks during a plus size pregnancy.
Are there still areas for improvement? Of course, but this initiative isn't just a step in the right direction – it's a giant leap! The government went from an obesity and pregnancy initiative to Pregnancy for Every Body. A resource to be celebrated with information to be shared far and wide!
Hear from other birth professionals sharing their thoughts on Pregnancy for Every Body.
"A critical part of improving healthcare is putting meaningful information into the hands of consumers. So consumers can make their own best decisions. Everyone deserves evidence-based, compassionate care, but it can be hard to know how to find it. Thank you, NCMHEP, for helping bridge that gap." Cristen Pascucci, Birth Monopoly
"Education is power. Education plus size women on their health and having a healthy pregnancy is long overdue. Replace the shame with education is a win for everyone!" Denise Bolds, Bold Doula
"Pregnancy for Every Body has made a huge leap forward in supporting larger pregnant people with its affirmation that most plus sized people have healthy pregnancies. By emphasizing the importance of working with a size friendly provider, the NIH has acknowledged bias against larger people. And the significant impact it can have on your birth. Encouraging people to work with someone who respects you. And pointing people to supportive resources like Plus Size Birth will help so many larger pregnant people have more positive birth experiences!" Megan Davidson, Brooklyn Doula
"As a birth justice organization, we get excited when campaigns for pregnant families and their providers promote personal agency during the perinatal period. The new NIH Initiative, "Pregnancy for Every Body," does an excellent job of this. It provides data-based information for plus-size consumers looking to practice risk reduction during pregnancy. We especially appreciate that the education highlights that most plus-size pregnancies are healthy and that BMI is only one piece of the conversation. This initiative is a good step in the right direction towards expanding access to equitable perinatal care for plus-size pregnant families." Elephant Circle
"I am so happy to see the NIH incorporate the important work of consumers like Jen whose perspective is critical to understand if one is going to deliver respectful health care." Jen Kamel, VBAC Facts
"It is so refreshing to see the conversations shift from one of shame, to one of understanding, acceptance, and education." Adriana Lozada, Birthful
"The purpose of midwifery is to meet families, all families, where they are on this journey of pregnancy. To support, educate and empower them. Resources like Pregnancy for Every Body and the fabulous work by Jen are critical in assisting with that goal." Aubre Tompkins, A Midwife on the Path
The time has come to support pregnancy for every body. Stop the fear-mongering, and see real change in how plus size people are treated throughout maternity care and well beyond!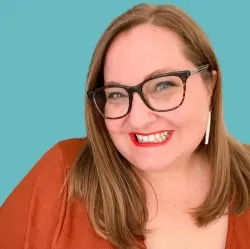 Latest posts by Jen McLellan, CBE
(see all)