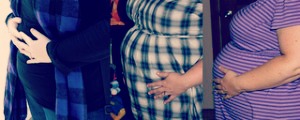 Plus Size Maternity Clothes Look Cute Without Going Broke! 
Clearance – Stores like Motherhood Maternity carry super cute plus size clothes but they'll start to drain your unborn child's college fund.  Save 30% – 70% by heading directly to the back of any store to the clearance racks.  Also, find great clearance deals online with stores like Old Navy and Lane Bryant.  Don't forget your coupons!
Gaucho/Yoga Pants – This is a pregnant girl's version of the little black dress!  You can dress it up or down depending upon what you're wearing.  Thankfully, it isn't a dress so you can put your tired feet up on a chair without giving everyone a show.
Sundresses – Stores like Ross and T.J. Maxx carry adorable plus size sundresses for around $12 each!  Look for loosely fitted dresses and they should last an entire pregnancy and well beyond.  Plus, they last through multiple seasons:  on a cold day, throw on leggings and a sweater ; on a warm day just add a shrug.
Maternity Jeans – Every pregnant woman longs for a clothing item with that obnoxious bellyband.  It's like a pregnancy rite of passage.  Maternity jeans will work well with a lot of clothing items already in your closet so they're a good investment in the long run.
Boy Shorts Panties – Maternity panties aren't the most attractive clothing item.  There's an easy solution that will last you a few years rather than just 9 months:  Boy Shorts Panties!  As your belly grows, they're accommodating and very forgiving.  Plus they come in all different colors and styles.  It's possible to feel sexy during pregnancy in a pair of boy shorts lace panties.
Belly Support Band = Boxer Briefs – Go ahead and chuckle!  Many can justify spending $40 on a pair of jeans but not $20 – $50 on a Belly Support Band.  What works for free?  Boxer briefs!  Grab a pair from your partner and give it a try.
Raid Your Own Closet – You just might be pleasantly surprised by how many of your regular clothing items fit throughout pregnancy.
You'll look stunning regardless of what you're wearing or how you're feeling thanks to that unmistakable pregnancy GLOW.  It's the best accessory ever!
For even more ideas plus size maternity check out this Plus Size Mommy Memoirs blog post.