We understand that finding the right clothes while pregnant is never easy and it's especially hard when you're plus size.  We all have more important things to worry about such as understanding the risks and complications of pregnancy or finding the perfect doula to support you during your birth.  So that's why we are always here for you to help make things easier.  We'll connect you to the right shops and having you looking cute without going broke in no time!
Plus Size Maternity Clothing Tips: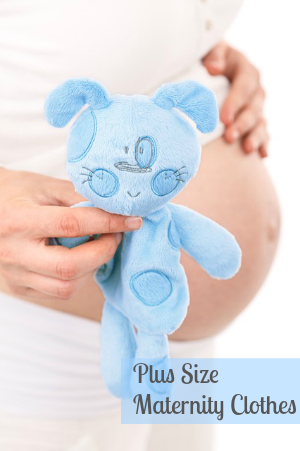 Let's start with under your clothes.  Boy shorts panties are super comfy and come in lots of different patterns and colors.  You can wear them before, during, and after pregnancy.  The best part is that you don't have to hunt to find them – any retailer that sales plus size clothes should also sell these cute undies.  But have no fear, you can find cute plus size undies (Plus Size 3 Pack Maternity Hi-cut Panties, Butterfly
).
Wrap Nursing Sleep Bra, White
is a must-have item as your breasts become sore during pregnancy.  This is unlike any bra you've ever worn because it's super comfy and just gives you a little lift.  It's perfect for sleeping and supportive enough if an unexpected guest stops by.  This bra is wonderful during pregnancy and once you're nursing your little love!
Raid your closet before buying expensive plus size maternity clothes!  You'll be amazed by how long your clothes will actually fit.  Flowy dresses are ideal for pregnancy because you can wear them all year round.  During the cold months just throw on some leggings and a shrug or sweater.  Along with dresses, yoga pants and gaucho pants are a pregnant girl's best friend. You can dress these pants up or down with a few accessories and always be super comfortable.
It's nice to buy some maternity clothing items but it can be difficult to find stores that carry them.  Your best best is Motherhood Maternity
or JC Penny.  Target's maternity clothing items go up to a XXL but they tend to run small.  If you go to a store that carries plus size maternity clothes, head directly to the back of the store first.  Plus size clothing items are usually more expensive than the smaller sizes so the clearance section is ideal.  You'll be amazed by some of the deals you can find and there's no sense in spending a lot of money on items you won't be wearing for very long.  The good news is that you can Google "Plus Size Maternity Clothes" and find tons of stores that sell just what you're in need of.
Maternity jeans are an essential item during pregnancy!  There's just something about that obnoxious belly band that makes you feel pregnant.  We recommend Plus Size Secret Fit Belly(r) Boot Cut Maternity Jeans, Dark Wash
. For some women, their loose fitting tops will last throughout pregnancy so this is the only maternity item they will actually buy.
We hope you found these tips helpful and regardless of what you're wearing, your beautiful pregnancy glow is the best accessory ever!  Below you'll see our list of Top 10 Plus Size Maternity Clothes Must Haves.
Buy 3, Get 1 FREE – select tops, dresses and sleepwear at Destination Maternity. Valid 4/30-5/13. Shop Now
Additional Resources:
Plus Size Nursing Bras
Plus Size Belly Support (bands, wraps, maternity underwear, and more)
Plus Size Babywearing